Things for Couples to Do in Ottawa
If you are thinking of visiting Ottawa this year with your significant other, we have put together a list of romantic things to do in Ottawa while visiting the gorgeous city.
In my opinion, Ottawa is a very romantic place and deserves a visit. Home to some of the nation's most outstanding treasures and museums, you won't run out of things to see or do.
They are so many things to do in Ottawa that you may not get the time to do or see them all. But our amazing list is designed to give you highlights of what you can do with your other half while in the area.
Before we get started on romantic things to do in Ottawa for couples, we wanted you to take the time to like our Facebook Page here! We also use affiliate links in our blog post which means we can make a commission if you use any of our affiliate links.
First, if you are not from the area and you are looking for affordable flights to Ottawa, check with TripAdvisor. And we highly recommend using Booking.com for all your accommodation needs in Ottawa.
Alternatively, you can rent out an Airbnb if you are looking for more of a home-like cozy feel. Sign up here if you are a first time user and get a $45.00 credit.
They are so many things to do on a date in Ottawa.
We are so excited to explore everything you can do in Ottawa that is romantic and fun.
Fun Things to do in Ottawa for Couples
As we mentioned, if you are planning a couples retreat to Ottawa Canada, you will not run out of things to do. Whether you are adventurous, enjoy winter or you are a summer body, there is plenty of things to do in Ottawa for couples.
We are romantics at heart and therefore wanted to create the best list that everyone could enjoy when visiting Ottawa.
Free Things to do in Ottawa
They are so many free things to do in Ottawa that everyone can enjoy.
As much as I enjoy the romantic side of me, I am also really cautious about spending money carelessly. We know that Ottawa is a gorgeous city, and they are a lot of fun things you can do.
But we also wanted to share a few free things to do in Ottawa that everyone can enjoy.
Visit the popular Markets in Ottawa
Ottawa is home to a few amazing markets but the most popular market is the Byward market located right downtown. I am all about shopping locally and what better way to do that, than going to the local markets.
The market is typically opened during early May, depending on the weather and closes in November, again depending on the weather.
The market will give you a chance to visit some amazing boutiques, amazing restaurants, and the popular dessert bar- Beavertails.
The Byward market should definitely be on your list of things to do in Ottawa. The best way to experience the market is to definitely take the food and drink tour. You will get to eat 9 food samples and 2 alcoholic beverages.
You can learn more about this amazing treat right here. Book early as they are always sold out.
Alternatively, you can also visit the market on Parkdale which is also pretty amazing.
Check out the Parliament Hill
Other things to do in Ottawa includes visiting Parliament Hill. You can not come to Ottawa without visiting the Parliament Hills. Parliament Hill sits in the middle of the city center overlooking the Ottawa River and is a major tourist attraction.
Parliament Hill offers tours of the building and it is based on reservations.
This must be booked on site. The tours typically last between 30-60 minutes.
You can also choose to participate in the Big City Hunt as a couple that starts off at the Parliament.
You might also like
Skate on the Canal for two
Are you winter bodies? If you enjoy the winter more than anything, then you will definitely have fun skating the Rideau Canal. The Rideau Canal is usually turned into a skating rink during winter. Enjoy a romantic evening skating on it and it is the perfect way to end an evening.
Don't forget those yummy Beavertails and hot chocolate. As you can see, there are so many amazing things to do in Ottawa.
Source: Weddingchicks.com /Photographer: Elizabeth and Jane
Get Pampered while visiting Ottawa
Speaking of winter and if you are still looking for exciting things to do in Ottawa, do yourself a favor and visit Le Nordik Spa. If you are looking for a spa like no other, this is the place.
Although open all year round, I love to go to Le Nordik during winter.
You must try the relaxation retreat. To top off your spa day for two, treat yourself to a gourmet meal in your bathrobes at the Rësto.
In fact, why not rent a night at the cottage? The spa is a 25-minute drive from Ottawa.
We still consider it Ottawa and needed to add it to our list of Romantic things to do in Ottawa.
You can also check out Holt Renfrew if you want something in actual Ottawa.
Spend the day at the beach
Still looking for more romantic things to do in Ottawa? Why not spend the day at the beach?
Though Ottawa does not have a lot of great beaches, you can still visit Perie Island, Mooney's Bay or Britannia beach which is a lot nicer.
Britannia is one of the most beautiful beaches on the Ottawa River. In the Gatineau, you can find the Lac Leamy Beach.
If you are looking for more romantic things to do in Ottawa, then keep reading.
Visit the Casino Lac Leamy in Style
Speaking of Lac Leamy beach, you must check out the Casino Lac Leamy. Casino Lac Leamy should be on your list of things to do in Ottawa.
Home to the largest Casino in the city, you do want to miss it. During Canada Day, you can catch amazing fireworks here.
They also have a few restaurants and clubs on the property that you can enjoy.
The Casino is about a 15-minute drive from downtown Ottawa. You can catch an Uber.
Enjoy the Festivals in Ottawa
Want more things to do in Ottawa? Why not enjoy one of the many festivals that Ottawa has to offer?
Ottawa does host festivals all year round so you will never run out of interesting things to do in Ottawa.
You can attend Winterlude which is held in February, the Tulips festival which is in May. We also have the popular Jazz Festival that you can attend.
Definitely check out Groupon for discounted and reasonable pricing.
Go for a Romantic walk around Ottawa
If you are looking for more romantic things to do in Ottawa, then take a walk. Ottawa has so much to offer, you won't be disappointed. You can visit the beautiful grounds of Rideau Hall.
They also have tours where you can actually go inside the official residences of the Governor General.
The place is pretty cool especially the ballroom. And they have amazing historically paintings throughout the place.
Walking not your thing? Then take a tour of Ottawa in the Lady Dive bus. So much to see and lots of things to do in Ottawa. The Lady Dive bus actually turns into a boat and then goes into the water.
The Rideau river. It's a pretty awesome experience.
Learn more about it here.
Enjoy great food overlooking the City of Ottawa
What better way to take in the view of Ottawa by overlooking the whole city. The Andaz Hyatt has a rooftop restaurant.
Enjoy a meal and a drink at the Copper Spirits and Sights located on the 16th floor of the Hotel. This premium lounge boasts the title of city's tallest rooftop bar.
Sip your cocktail while you fully experience Ottawa.
Otherwise Elgin street is full of amazing restaurants you could try out and they are plenty of things to do in Ottawa, especially on Elgin St.
Go Dancing with your partner on Elgin
Elgin is where the Party is at in Ottawa. If you enjoy good music, nice drinks, and happy people, you will definitely find them on Elgin.
Elgin is also the place where you will find many other things to do in Ottawa, but dancing and music is one of them.
Stay at the Romantic Ramada Hotel Overlooking the Rideau River
And lastly, on our list of things to do in Ottawa, we want to suggest a place to spend the nights while in Ottawa.
This recently renovated hotel is located on Prince of Wales and it is perfect for your romantic getaway to Ottawa. The Ramada by Wyndham Ottawa on the Rideau is the best choice for your romantic stay.
The place will give you a cottage like-feel and there is plenty to do on site.
They have an outdoor pool, a dock to enjoy and they allow dogs. This is the perfect getaway for those looking for romantic things to do in Ottawa.
Get the best Hotel rates here.
Romantic things to do in Ottawa, which of these will you do today?
Check out additional activities on Groupon for ideas on things to do in Ottawa- such as this one and this one. We highly suggest signing up for Groupon as you can get amazing deals.
We also suggest signing up for the FREE APP- Spent Travel. You will earn 35% cash back on your next Hotel stay and earn a $10.00 cash bonus just for signing up.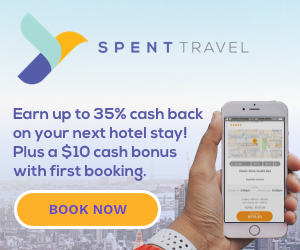 If you enjoyed our tips on the best and romantic things to do in Ottawa, don't forget to spread the love and PIN IT to your travel board.
If you want to receive more tips, discounts and cool posts, be sure to join our club below.
Romantic things to do in Ottawa, Canada for couples