Sweet Table at a Wedding
Are you as Pinterest obsessed as we are?  Then you know that you will get plenty of awesome wedding ideas to style your very own sweet table on Pinterest!
Get inspired and get lost in all the prettiness that Pinterest can offer you!
Sweet Tables and candy tables are so popular for weddings, birthday parties, baby showers and practically any event that you can think of. They are an awesome double for wedding gift favors!
Anyone can put a sweet table at a wedding together, but if it is not well coordinated with your event theme, it tends to take away from it. Keep in mind that this candy/dessert table will practically be one of the main focus of your event! Style it well!  
They are especially great for weddings as they can double as gift favors! If you are interested in setting up a sweet table at a wedding for your big day, this guide should help you out. 
You might also like:
10 Creative and Fun Wedding Bar Ideas For Your Big Day
Pick a Color Palette
Picking your wedding color palette is the number one thing to consider before designing your candy or dessert table. This is the very step before you can even consider thinking about your design of a sweet table at a wedding.
What is your wedding theme? What are your color themes?  It's not necessary to limit yourself to a single color hue, as long as everything is aesthetically pleasing, feel free to choose a whole spectrum of colors that go well together.  
Via White Lilac Inc
Add Dimension
The next thing you should consider when planning out your sweet table at a wedding is adding some dimension to your candy jars as well as plates that you will be using.
Choose a range of shapes and sizes to add depth and height to your design!
Keep in mind the size of your buffet table. Typically a one 6 foot table works well for dessert tables. Don't be afraid to stack some boxes under some jars to give it height!
If the boxes are not pretty, cover it with the linens you are using to set up.
Get all your jars from Amazon! They have amazing deals right here!
Source: Party in Rosa
Best Sweets for a Wedding Sweet Table
Curate your candy carefully!
Definitely, ensure that everything you pick is well coordinated with your wedding colors as much as possible!  
Also, ensure they are easy to eat and guests are able to get to it easily either with a scoop or mini fork! Make sure you have a good mix of different types of candies and desserts to please everyone.
Have a good mix of different types of candy.
Not sure where to get your candy?
Try amazon- Use this link to get some of the candy! Looking for Pink candy? I love the look of the pink candy, try this link! 
Accessorize, Accessorize and Accessorize 
We love to accessorize.
Use some of your decor elements to add to your candy buffet. A nice backdrop would work, large mirrors or frames!
Balloons also do wonders if they are huge and are a neutral color!
Add some flowers and candles to add to the theme and ambiance. Definitely theme it as much as possible like just like your wedding, every detail counts!
Don't forget your cute scoops, tongs, and baggies for the guests to put the candy in.
Customize your napkins to match your theme (add your event date, your name to the napkin). Take a look at all your candy accessories right here! 
Signage
Don't forget your signage! This is a big one! Personalize your signage and make it work for your event and theme!
Found on Megan Wallach
As seen on Wedluxe– cake by Elizabeth Cakes Emporium
As seen on Elegant Wedding 
Will you be styling your own dessert station? Tell us below!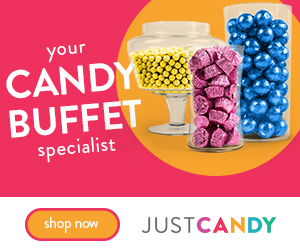 I hope these help you! If you need more help with your DIY candy buffet, Just Candy are well equipped to help you get the most out of your candy theme! 
Want more amazing wedding planning tips? Don't forget to sign up here:
Don't forget to pin this to your wedding theme and decor idea board. 
How To Set Up A Candy Bar At A Wedding Reception