Beautiful Wedding Ideas On Pinterest
Summer weddings are in full swing, and everyone I know is busy looking for creative wedding ideass on Pinterest.
Pinterest is one of the most helpful platforms for couples to use if you are for inspiration, and tips on organizing and planning your wedding day.
There's no better way to come up with your wedding vision than Pinterest.
If you recently got engaged, let me start by saying congratulations.
It must be all exciting, and I am sure you are ready to jump in, feet first, into the wedding planning aspect.
And we don't blame you.
Once you tell your family and friends, I am sure they will start dishing out all their best wedding day tips and tricks.
I usually turn to Pinterest for all my wedding ideas.
Especially if I am stuck or unsure how to start the planning process.
Things can get overwhelming and costly if you don't know where to start.
You will find thousands, if not millions, of creative wedding ideas on Pinterest.
Whether you are looking for ways to plan a backyard wedding on a budget or are looking for cheap wedding food ideas to feed your guests, Pinterest will have a source for you.
Outdoor weddings are trendy, especially during summer, but fall weddings are also on the rise.
If you plan to get married this year, then you are lucky.
We compiled a list of the best wedding ideas on Pinterest to help you plan your big day.
Planning a wedding is a lot of fun and extremely exciting.
And with Pinterest, you might find this whole planning a breeze.
I get asked this great question all the time:
"How do I use Pinterest for my wedding?"
You can search and find your dream wedding venue, save all of your favourite wedding dress ideas, and even use it to come up with exciting Honeymoon ideas!
I enjoy using it to curate wedding decor mood boards for your wedding florists and planners.
Here are a few things you can look up on Pinterest if you are starting to plan a wedding:
Bridal showers

Rustic Weddings

Wedding Venues

Garden weddings

Wedding dress ideas

Barn weddings

Wedding favours

And so much more
You can also look up some awesome DIY wedding ideas if you plan to make some decorations yourself.
It can sometimes be tough to come up with unique and exciting outdoor wedding ideas, but we found some gorgeous ideas to help you get started.
Here are 10 Ways to have an elegant wedding on a budget that you may be interested in!
Here is how to plan your wedding with ideas from Pinterest:
Before we get started on the best wedding ideas on Pinterest, we wanted you to take the time to like our Facebook Page here! We also use affiliate links in our blog posts, meaning we can make a commission if you use any of our affiliate links.
If you are getting married this year, join our Bride Facebook here.
Don't forget to check out the wedding printable shop for your wedding planning checklists, worksheets, and freebies.
Unique Pinterest Wedding Ideas 2022
We love outdoor weddings.
In Canada, my wedding business is typically bustling with weddings during the Summer months.
And with this, everyone is typically looking for outdoor wedding venues.
Planning is extremely wise if you are one of these brides dying to have the perfect outdoor wedding.
Because of outdoor weddings' popularity, you want to get ahead of the game.
We hope these outdoor wedding ideas inspire you to plan your best wedding!
This gorgeous wedding on Pinterest was initially posted on ModWedding and was photographed by Brinton Studios!
It is simple but features all the elements needed for the perfect outdoor wedding.
I love all the outdoor wedding ideas on Pinterest.
If you plan an outdoor wedding, hit Pinterest to find more inspiration.
The platform can help you determine your wedding theme and the style and direction you need to plan the perfect day.
You can also check out these wedding blogs for more ideas.
This gorgeous wedding found on Pinterest is from Wedding Wire.
This beautiful vintage wedding was photographed by Caroline Joy & Floral Design by Bouquets of Austin!
How breathtaking is this?
If you are having a blush wedding, this wedding idea found on Pinterest is simply gorgeous and romantic.
They are so many outdoor wedding ideas you can use for yourself in this wedding.
I love the two rustic doors leading onto the ceremony.
And the floral hanging on the doors is simply stunning yet very simple.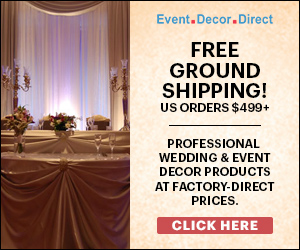 Stunning outdoor wedding ideas can be found on Dear Pearl Flowers.
What do you think?
The floral details on the ladder complete the look beautifully.
This is a perfect wedding design for a fall wedding.
This simple and elegant outdoor wedding decor is highly budget-friendly.
It can be found on the Every Last Detail blog!
It was designed by Antonia Christianson Events and captured by Lindsay Colette!
A lot more elegant outdoor wedding ideas can be found there.
These hanging lights are perfect for an outdoor wedding.
This gorgeous wedding was found on the Wedding Scoop and was captured by Axioo!
This fairytale wedding was featured on Huffing Post!
This stunning rustic outdoor wedding decor-themed event on Pinterest was featured on Wedding Forward and designed by Ayano Tachihara Wedding Design!
This gorgeous all-white tented wedding was found on Brides and is full of unique outdoor wedding ideas.
Wedding planner Elyse Jennings plans the most elegant weddings on the planet.
This gorgeous outdoor cocktail wedding idea was found on her portfolio site, which you can take a look at it here!
You will find many unique outdoor wedding ideas you can use for your day.
This gorgeous Haiku Mill Wedding in Maui was featured on June Bug Wedding!
It was Photographed by – Anna Kim Photography Wedding Coordinator – Lindsay Miller of Elements Luxury Events!
Who else is loving this?
I love the use of the greenery on the walls as well as how they
One of the best wedding ideas I found on Pinterest.
We hope you enjoyed our blog about the different Pinterest wedding ideas.
Read this next:
Don't forget to check out the wedding printable shop for your wedding planning checklists, worksheets, and freebies.
10 Gorgeous & Creative Wedding Ideas On Pinterest